ABOUT US
Our association commit and act e.V. brings psychotherapeutic support to communities in need and especially people with a history of trauma in Sierra Leone, as well as Uganda and Liberia.
War, poverty, abuse and the recent Ebola epidemic have significantly affected the Sierra Leonean people. Through trauma and loss people can lose their sense of meaning, lose their feeling of identity or place in the world and develop ongoing depressive, anxiety and relational problems. Our NGO focuses on building hope,giving individuals and communities psychotherapeutic strategies to better enable them to cope with their current difficulties and focus on a valued life direction.
The goal of commit and act is to build a sense of trust again in the people we work with. To help individuals find the courage to rebuild their lives according to their own vision and values. Our local professional therapists counsel individuals and community groups. Additionally, commit and act trains psychosocial helpers in effective methods of psychotherapy and support them through regular supervision to help educate other regions in need of health promotion, health education or psychological support.
Awards and Recognition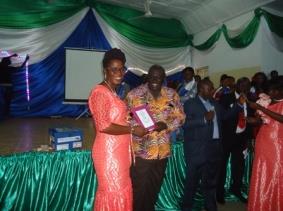 In 2014/15 our work changed drastically in response to the Ebola Crisis. Our team has now been honoured to receive a total of four awards in recognition of our work, from the Bo District Ebola Taskforce, Bo District Council, Ministry of Social Welfare, Gender & Children's Affairs, and the 'Women for Change' umbrella body for grass roots women's empowerment groups:
An Award of Merit 2015 respectively went to
Hannah Bockarie,

Director of our clinic, for her outstanding and excellent performance in social mobilization activities

Beate Ebert, chair of our board, for her distinguished and outstanding leadership role in the Ebola Emergency in Bo District

 'Kids Against Ebola', an initiative that provides for children orphaned by the Ebola virus

 'commit and act foundation' as a whole for the significant, distinguished and excellent performance of every member of their organisation
From our team, we would likte to thank you so much to all of you for your donations, kind words and generous hearts. Our Leonean brothers and sisters were sustained during the Ebola crisis knowing that they have the support of a caring international community. We could not have done this work without you.
What others say about us
Below is some of the media content that has been created about our work.
Steven C Hayes, co-founder of Acceptance and Commitment Therapy describes how we use ACT to prevent Ebola infections. The wonderful piece for the Huffington Post Online is titled Kissing the Banana Trunk.
The Psychologist, the journal of the British Psychological Society has reported on our approach to Ebola prevention in great detail here.
Julia Broska, from humanitarian aid NGO Welthungerhilfe was interested in our approach and interviewed director Hannah Bockarie. You can find a transcript, and the video of the interview in Julia's blog here.